Great Smoky Mountains National Park, Cades Cove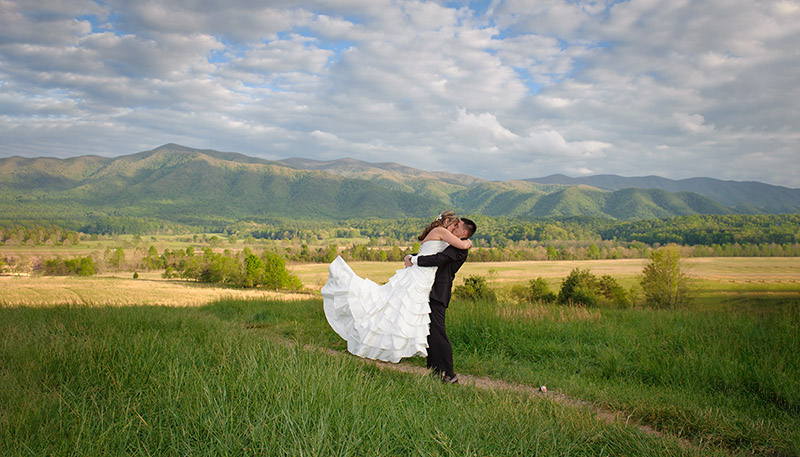 Cades Cove Outdoor Locations:
Cades Cove is a lush valley surrounded by mountains, it is one of the most popular destinations in the Great Smoky Mountains National Park.  You can catch a glimps of everything the park has to offer;  views, wildlife and history.  The expansive meadows in Cades Cove provide a unique foreground to some of the most amazing mountain views in the park.  These same meadows also offer plentiful food sources for wildlife.  Deer are often seen in the fields and sightings of other wildlife, including bear, are possible.  A wide array of historic buildings dating back to the late 19th and early 20th centuries are scattered through out the cove. These include a grist mill, a variety of barns, three churches, and a marvelous collection of log homes and outbuildings.  Aside from the 3 Churches,  there are two outdoor mountain view locations the national park has approved for wedding ceremonies.
Cades Cove Historic Churches:
The Primitive Baptist Church, Methodist Church and Missionary Baptist Church are all available to be used for wedding ceremonies. There is no additional fee required to use the churches. Please note that the appeal of these historic buildings is their rustic charm. They do not have any source of power or restrooms. The Methodist Church is particularly appealing as it has a beautiful mountain view setting outside that can be used for wedding ceremonies with less than 20 guests.
We will obtain the permit for your Smoky Mountain National Park Wedding at no additional charge!

Package prices are based on the location that you select. The prices below are applicable to all of the Cades Cove locations.
Package A – $579
On location ceremony at the location of your choice
Local minister to perform your personalized cermony
One hour professional photography session
30 4×6 prints in a keepsake album & on high resolution CD
Personalized online gallery
Package B – $499
On location ceremony at the location of your choice
Local minister to perform your personalized cermony
One hour professional photography session
Personalized online gallery
Package C – $925
On location ceremony at the location of your choice
Local minister to perform your personalized cermony
Two hour professional photography session – 2+ locations
100 4×6 prints in a keepsake album & on high resolution CD
Personalized online gallery