Smoky Mountain Cabin Weddings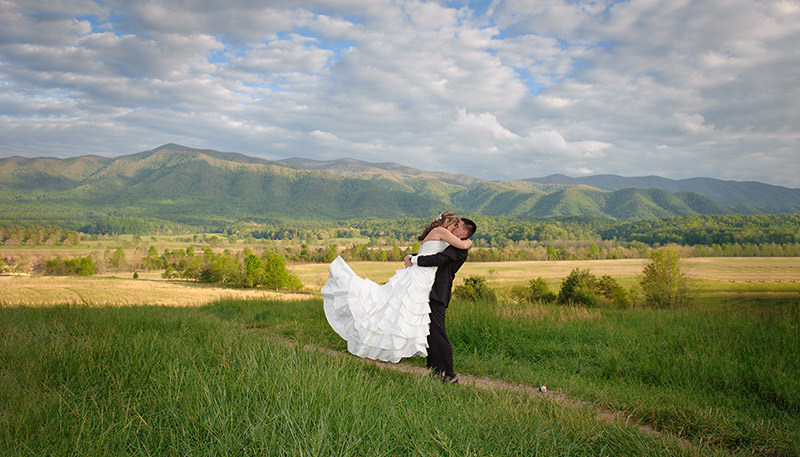 Cabin Weddings:
A wedding ceremony in your cabin is easy, convenient and economical.  There are so many cabins in Gatlinburg and Pigeon Forge,  you are sure to find one that suits your taste.  You can get ready in your cabin,  then just step outside for your ceremony.  No need to fight traffic or keep track of directions.  Then,  you can have a small intimate reception right there at the same location.  Wedding packages are also lees expensive when they are held at your cabin.  Feel free to contact us for more information on the best cabin rentals in the area for your wedding.
Package prices are based on the location that you select. The prices below are applicable to the overlook location.
Package A –  $429
On location ceremony at the location of your choice
Local minister to perform your personalized ceremony
One hour professional photography session
30 images of your choice on a high resolution CD with copyright release
Personalized online gallery
Package B –  $547
On location ceremony at the location of your choice
Local minister to perform your personalized ceremony
One hour professional photography session
30 images of your choice in a 6×6 deluxe storybook album
All images (75+) on a high resolution CD with copyright release
Personalized online gallery with download allowance
Package C –  $847
On location ceremony at the location of your choice
Local minister to perform your personalized ceremony
Two hour professional photography session – 2+ locations
72 images of your choice in an 8×8 Deluxe Storybook Album
All images (100+) on a high resolution CD with copyright release
Personalized online gallery with download allowance