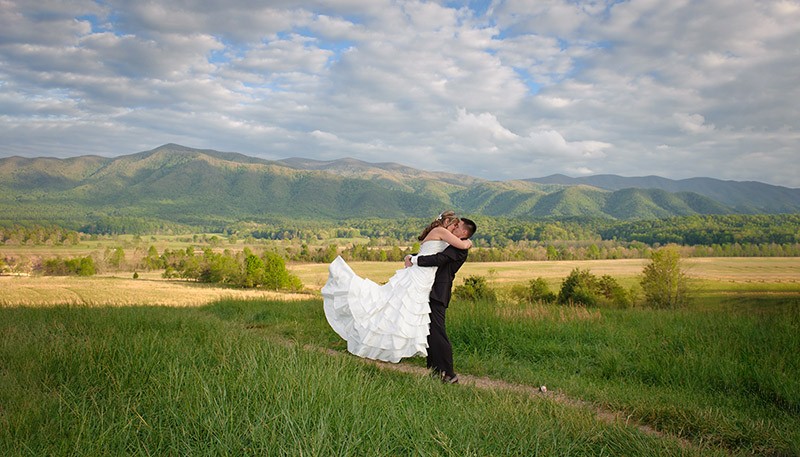 The reason we suggest this waterfall is because it is easily accessible on a flat trail just 3-4 minutes from the parking area.  Most of the other waterfalls in the Smoky Mountains require a hike of over a mile to get to.  You won't find this waterfall on any trail  maps, but it has become quite a popular area for wedding ceremonies and pictures! It's rushing waters and rich forest setting create the perfect romantic ambience for such a special occasion.  If it is your dream to be married by a mountain waterfall we can help make it happen.
 We will obtain the permit for your Smoky Mountains National Park Wedding at no additional charge!

 Package prices are based on the location that you select.  The prices below are applicable to Waterfall location.
Package A –  $520
On location ceremony at the location of your choice
Local minister to perform your personalized ceremony
One hour professional photography session
Personalized online gallery
digital download for 30 edited images of your choice with copyright release
Package B –  $647
On location ceremony at the location of your choice
Local minister to perform your personalized ceremony
One hour professional photography session
Personalized online gallery
30 images of your choice in a 6×6 deluxe storybook album
Digital download of all edited images (75+) with copyright release
Package C –  $948
On location ceremony at the location of your choice
Local minister to perform your personalized ceremony
Two hour professional photography session – 2+ locations
Personalized online gallery
72 images of your choice in an 8×8 Deluxe Storybook Album
Digital download of all edited images (100+) with copyright release