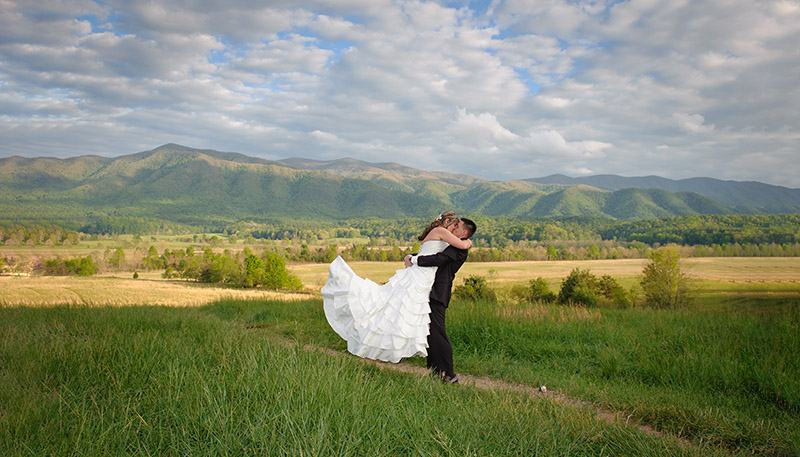 Greenbrier Riverside #2:
You'll find seclusion just a few miles up the gravel road from Greenbrier Riverside #1.  This a good spot for times when there is a chance of running into crowds in the park.  There are several spots along this section of river to choose from.  This is normally a second choice for wedding couples who are unable to use Greenbrier #1.  But this spot is just as beautiful as the other,  it's really hard to go wrong in the Smoky Mountains.  Greenbrier Riverside #2 Slideshow
We will obtain the permit for your Smoky Mountains National Park Wedding at no additional charge!

 Package prices are based on the location that you select.  The prices below are applicable to both of the riverside locations.
Package A –  $520
On location ceremony at the location of your choice
Local minister to perform your personalized ceremony
One hour professional photography session
Personalized online gallery
digital download for 30 edited images of your choice with copyright release
Package B –  $647
On location ceremony at the location of your choice
Local minister to perform your personalized ceremony
One hour professional photography session
Personalized online gallery
30 images of your choice in a 6×6 deluxe storybook album
Digital download of all edited images (75+) with copyright release
Package C –  $948
On location ceremony at the location of your choice
Local minister to perform your personalized ceremony
Two hour professional photography session – 2+ locations
Personalized online gallery
72 images of your choice in an 8×8 Deluxe Storybook Album
Digital download of all edited images (100+) with copyright release